Crispy Crunchy and Yummy 
Simple and Quick, too.
TOOLS and GADGETS
Mini Food Processor (regular works fine, too)
1/4 sheet size Cookie Sheet (or any flat surface)
Medium Sized Pan
Parchment Paper (to avoid mess)
Substitutions and Tips 
You can add different nuts and seeds to this recipe like pistachios, hazelnuts, sunflower seeds, etc. Even peanuts, which are technically considered legumes, will change the macros
Adding Xanthan Gum will make the bars softer and chewy
If you want extra crispy bars, pop the bars after cutting into a 325-degree oven for 5 minutes
Cut the bars before they harden as it will be very difficult once they're hard. 
The bars will be soft initially and as they cool off, they will harden
Keep them in an airtight container for up to a month.
For the chocolate topping, combine GOALZ allulose chocolate and 1 tsp coconut oil in a ziplock bag, microwave for 40 seconds at %70 power, and knead a little to smooth the melted chocolate. Cut a small hole in a corner and drizzle over the bars after they're cool. Strongly advised
WHERE TO BUY ALLULOSE
For all the recipes using Allulose, you can purchase fine powdered Goalz Allulose here: SHOP ALLULOSE. If you want to learn more about Allulose, visit our ALLULOSE INFO page.
Simple, Quick and Healthy. Add different nuts and seeds and make it your own
Ingredients
1/2 tsp Xanthan Gum, if you prefer chewy
3/4 Cup Allulose or other granulated sweetener like erythritol
1 oz Keto Chocolate,optional for topping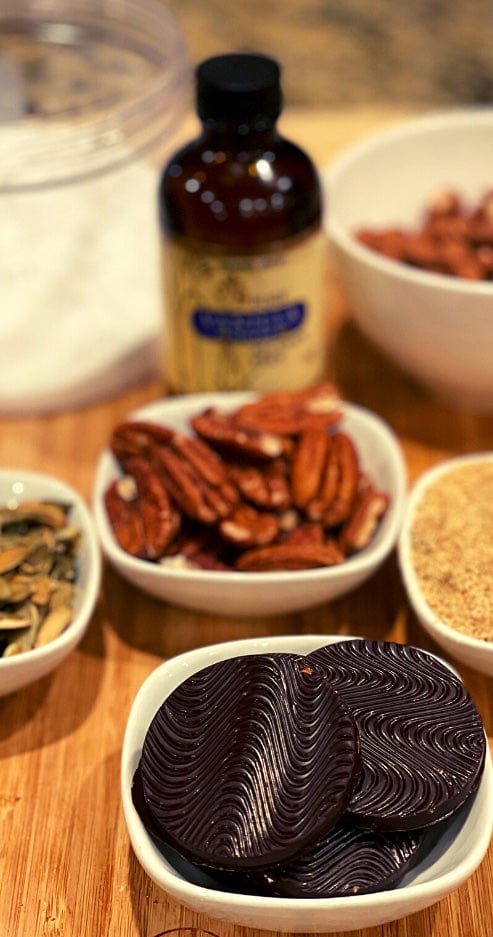 Directions
PART I
Crush almonds and flaxseed together, coarsely
Add pumpkin seeds and pecans, also Xanthan Gum if using
Crush them slightly , do not over process
Put allulose in a medium pan over medium heat and let it caramelize without touching for about 4-5 minutes
Remove from heat and add in vanilla, stir to mix
Add the nuts into the caramelized mix and stir to cover all the nuts
Transfer mixture to parchment paper lined small cookie sheet
Press the mixture evenly into a rectangular shape about 1/2 inch thick
Cut the rectangle into 10 pieces
Drizzle with melted chocolate for more fun
---