Originally, it is usually made with tart cherries, plums, apricots, and peaches. However, these fruits are high in sugar and hence carbs so berries came to the rescue and they worked really well.  
1 cup of blackberries has only 6 net carbs. Increase the amount you will have a delicious fruitier dessert.
TOOLS and GADGETS
Electric Blender, Mixer or just use a Whisk by hand albeit it's a little hard
8 or 9-inch pie pan, any oven-safe dish with at least 2-inch depth should work fine.
Measuring Cups and Mixing Bowls
TIPS and SUBSTITUTIONS
You can use strawberries, or raspberries, it may change the carb amount but not too significantly
Add more berries to make it fruitier. Adding one more cup of blackberries will only add less than 1 net carb per serving
If your berries are too large it is ok to slice or dice them, just don't make them too small
To make it vegan, substitute heavy cream with 1/3 cup almond milk and 2 tbs of coconut oil. If you use virgin coconut oil, you will get a coconut smell, I don't like it with berries so it is better to use refined coconut in that sense. You can omit egg whites and add 1 tablespoon of Xanthan Gum or 2 tbs coconut flour or 1 tbs of psyllium husk.
Whey protein isolate can be substituted with coconut flour (a little more than 1/4 cup), it will increase the calories and carb amount
Almond Flour can be substituted with coconut flour as well. 
WHERE TO BUY ALLULOSE
For all the recipes using Allulose, you can purchase fine powdered Goalz Allulose here: SHOP ALLULOSE. If you want to learn more about Allulose, visit our ALLULOSE INFO page.
Ready in half an hour. Excellent hot, room temperature or chilled. Choose the berries to your liking.
Ingredients
1/4 Cup Whey Protein Isolate
1 Cup Blackberries or other kind of berries
Sliced Almonds to garnish, optional
Directions
Preheat your oven to 350
Grease an 8 or 9 inch pie pan with butter
Arrange berries over the pie dish evenly
Put all other ingredients in a blender and mix well
Pour the mixture over the berries
Bake about 15 minutes or until the top is golden brown
Serve hot or at room temperature, sprinkle some allulose on top
Chill the rest in the fridge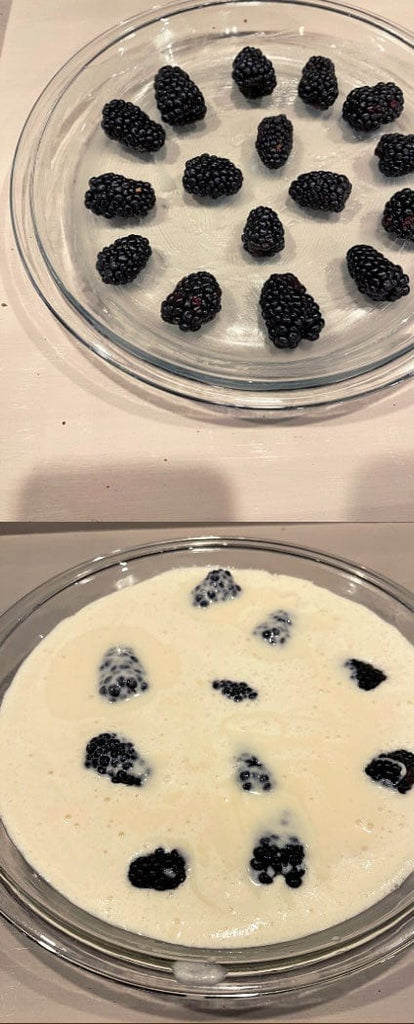 ---