This is always a hit, easy to assembly and ready in 30 minutes, perfect for week day dinners.

Your choice of tortilla will effect the amount of carb, as majority comes from it, onions, sour cream and low carb hot sauce adds about 8 carbs to the entire recipe and if you slice into 4, 2 carbs each slice.
TOOLS and GADGETS
Mixing Bowls
Oven Safe Dish, 8 inches
Electric Mixer or just two forks to shred the chicken
TIPS 
This recipe has so much wiggle room, change the sauce, add a few more of your fav ingredients and spices to make it your own. I made my own hot buffalo sauce so mine is buffalo chicken tortilla pie.. Use marinara sauce and it become chicken marinara tortilla pie, though it's a crime not to use a hot sauce in my opinion. 
For shredded chicken, you can buy rotisserie from store or cook some chicken breasts in an instapot for 20 minutes. Or you can always boil them in regular potter about an hour. 
To shred, you can use an electric mixer. Just add it to the bowl and run the mixer on high. It usually take 2-3 minutes to shred some 3-4 lbs chicken
Making shredded chicken ahead of time and keeping it in the fridge for a week or up to 4 months in the freezer is a good idea, you can use it to top salads, make sandwiches and of course chicken soup with it.
Freeze extra shredded chicken after it completely cools down in ziplock bags or airtight containers, in portions you would use (like 1 or 2 cups).
You can add more sour cream and less cheddar if you like. 

SUBSTITUES
Instead of Cheddar, you can use Gouda, Aged Mozzarella, Parmesan/Romano Blend
Sour Cream can be replaced by Yoghurt (will increase amount of carb, unless coconut yoghurt), Labne Cheese or Mascarpone
Versatile Recipe, change the sauce, add your fav spices, make it your own
Ingredients
1/4 Cup Low Carb Hot Sauce of your choice
1 1/2 Cup Cheddar Cheese, shredded
1 tbs Granulated Garlic or 1 Clove of garlic, crushed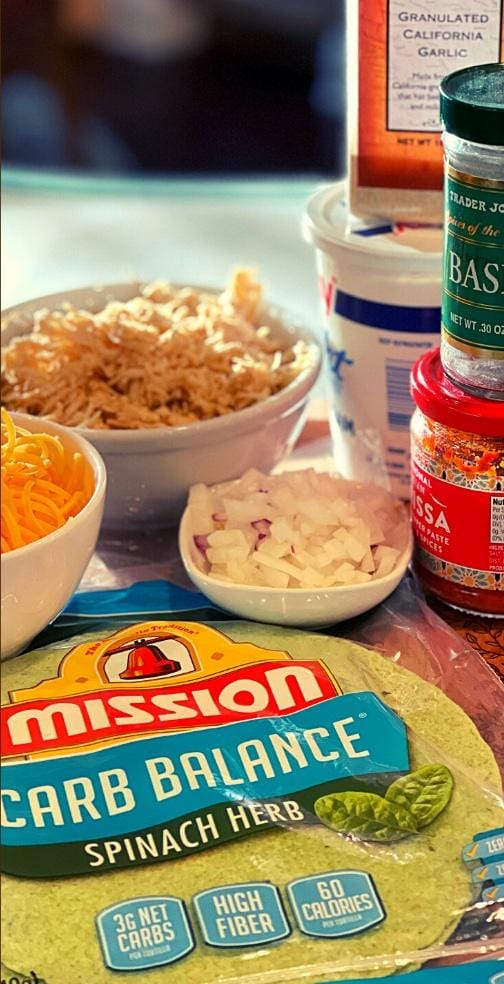 Directions
Combine shredded chicken, sour cream, basil, garlic, hot sauce and onions in a large bowl, mix well
Add 1 cup of cheddar cheddar cheese, mix
Pre-heat oven to 350
Spray an 8inch oven safe skillet or pie dish with avocado oil
Press one tortilla on to the bottom of the greased dish
Spread 1/3 of chicken mixture evenly over the tortilla
Repeat the process alternating tortillas and 1/3 of chicken mix, ending with the last tortilla
Over the top of the last tortilla, spread 1 tbs of the hot sauce, sprinkle with the 1/2 cup of cheddar over the top
Bake 20-25 minutes
Serve hot with sour cream
---
1 comment
---
---