Secret Italian Recipe... So simple with only 4 ingredients. 

Both chewy and crispy at the same time...

There are many recipes for amaretti cookies out there, but almost all result in something else. The criteria for success in this cookie is to get the cracks on top.

I got this recipe from a traditional chef who gave me the amounts in kilograms 😃. But it worked so well

This is the ketofied version. I was worried about sugar since the sugar in this recipe is not just used high for taste but as a functional ingredient. So the sweetener needs to be similar in molecular form. This means stevia and monk fruit will not work.

If you never had amaretti cookies, it's a shame. They are so special and calling them a cookie feels like an insult😂.
They are amazing, I'm not a cookie person and these are my favorite.
It is a very special recipe not kidding. Enjoy

TOOLS and GADGETS
Electric Mixer
Parchment Paper
Piping Bag, optional
Measuring Cups
WHERE TO BUY ALLULOSE
For all the recipes using Allulose, you can purchase fine powdered Goalz Allulose here: SHOP ALLULOSE. If you want to learn more about Allulose, visit our ALLULOSE INFO page.
TIPS and SUBSTITUTIONS
Any nut flours can be used in this recipe. Hazelnuts or macadamia nuts can be grounded. (Not coconut flour obviously)
Erythritol is the only substation possible in this recipe but the taste will be quite compromised. Do not use anything that has inulin in it. Dextrose and maltodextrin are not keto-friendly. It will mess with your blood glucose and potentially sabotage your weight loss.
You can use corn starch, potato starch, or wheat starch instead of tapioca.
I love larger versions and I get 14-15 cookies but if you like them small like1.5 - 2 inches you will have 20 or a little bit more. Nutrition values are for large cookies.
Ketofied Italian Recipe, Chewy and Crunchy at the same time..You will get about 15 3.5inch cookies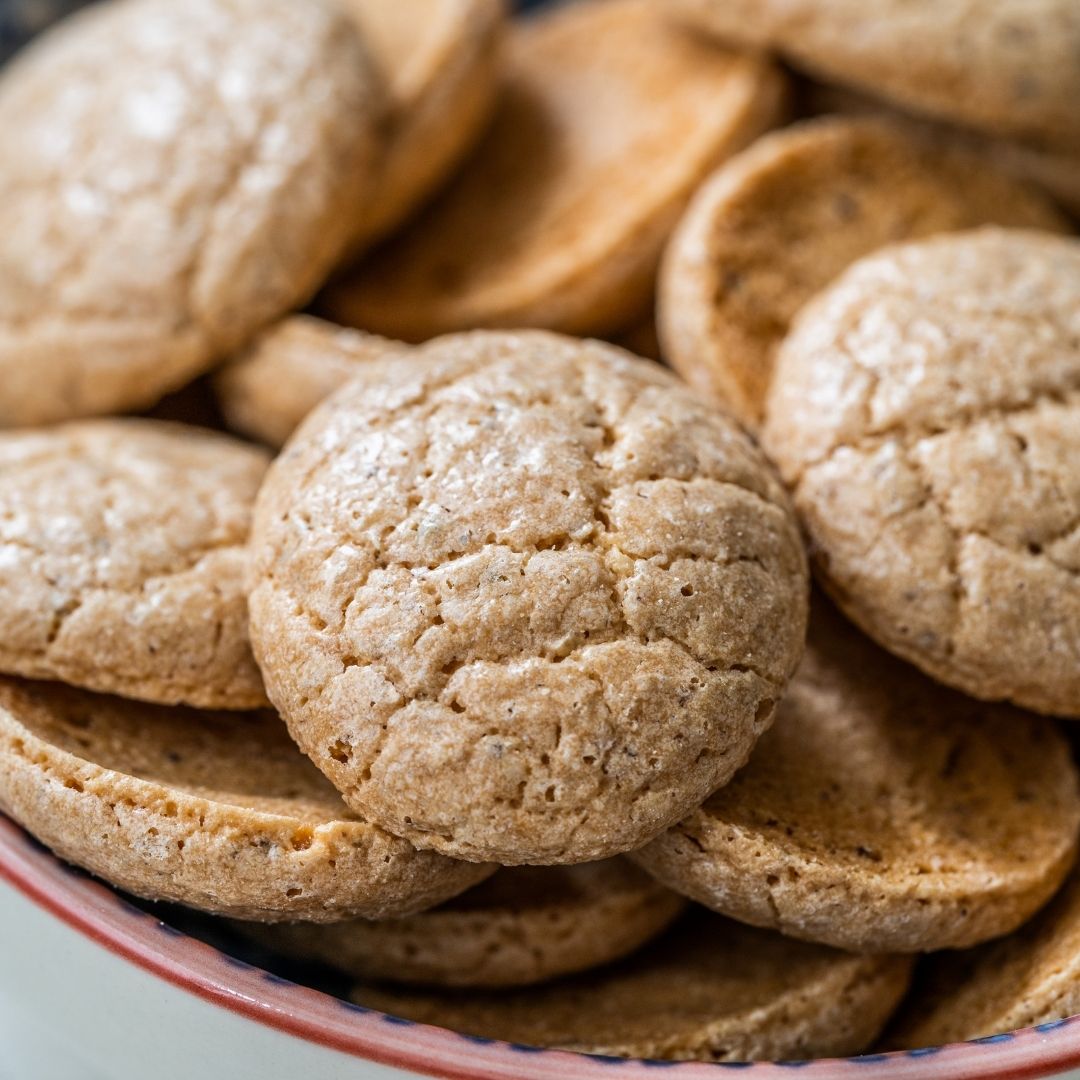 Ingredients
5 Egg Whites, or 1/2 Cup pl 2 tbs liquid egg whites
Directions
Preheat oven to 250 and line a cookie sheet with parchment paper
Combine all ingredients in a deep bowl
Beat with an electric mixer for 10 minutes, it will be soft and sticky
Drop spoonful of batter on the cookie sheet or use piping bag
Bake 25 minutes
Increase oven temperature to 300 and bake another 10-15 minutes or until you start to see brwoning on the sides
Remove from oven and let it cool to room temperature
---