Oh so refreshing.. Lemon juice works really well in this recipe adding extra zest.
I serve it with chicken, especially with fried chicken it lightens up the dinner. The sauce is actually really good with any fried recipe like fried cauliflowers, fried zucchini etc.
Using mint versus dill makes a tremendous difference. Both of these herbs are powerful especially when they're fresh. I prefer dill when I serve the sauce with zucchini. Mint with any recipe especially in the summer. 
TIPS and SUBSTITUTIONS
Use half sour cream, half yoghurt to reduce the amount of carbs
I found some Armenian Cucumbers at my local ethnic market, they taste slightly bitter cucumbers but have plenty more crunchiness. Try it if you can find some. They are pale green with deep grooves and they're about 8 inches long like English cucumbers but thinner.
Delicious Crunchy Cucumbers.. So refreshing... If you like cucumbers, this is it
Ingredients
2 large or 4 small cucumbers
2 tbs Yoghurt or Coconut Yoghurt
1 tbs Dried Mint or 1/4 cup fresh mint, minced
2 tbs Olive Oil or MCT oil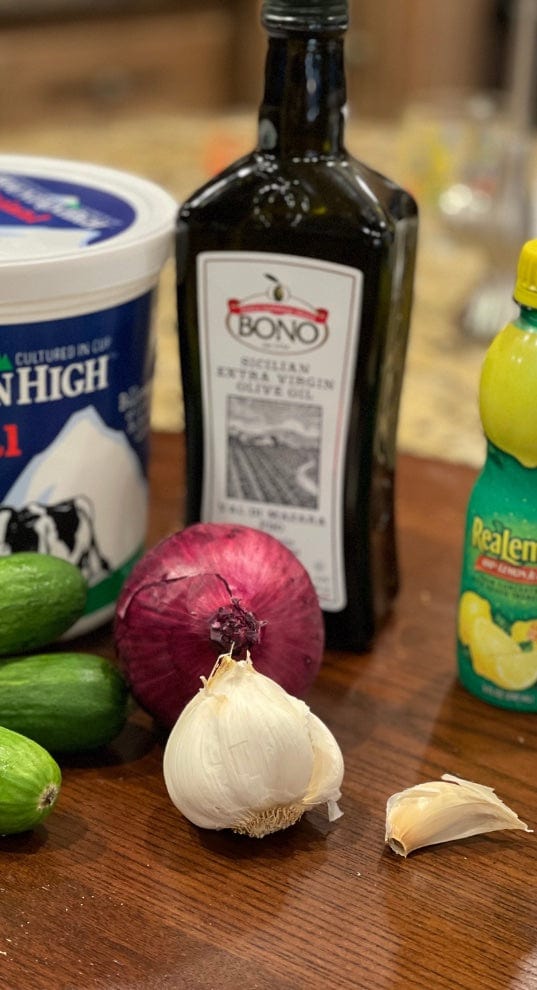 Directions
Peel cucumbers, cut the whole cucumber into 2 or 4 lengthwise and then slice them
Add thinly sliced onions
Add in yoghurt, lemon juice, garlic, mint and olive oil. Mix well
Garnish with fresh mint leaves
---