Delightful Buttery Croissant Recipe
Albeit requires some work but a tremendously simplified version of the traditional recipe, NOT reserved for experienced bakers only. Wonderful weekend activity.
I tried literally all keto croissant recipes, unfortunately, none delivered anything close to the taste, let alone the texture. Went to my old books and found this easy croissant recipe and converted it to Keto. You will love the taste and I'm proud of it. But honestly, it's not flaky as it should be. I achieved that delicate crunchiness though. This one's worth your time and money (ingredients).
After wasting packages of almond flour, lupin flour, and vital wheat gluten, other keto flours, neither of which are cheap, these are the priciest croissants for me.
Coconut flour is there to absorb more liquid so do not worry about the flavor. It won't add any.
TOOLS and GADGETS
Baking Sheet
Parchment Paper
Rolling Pin
Mixing Bowl and Measuring Cups
TIPS and SUBSTITUTIONS
The only substitution I can suggest is that if you don't have Lupin Flour, use almond flour in the same amount and add 2 more tablespoons of coconut flour,
Xanthan Gum is optional, I tested both ways, no difference but I kept it there as I need a few more experiments.
Cold butter, cold heavy cream, cold water, basically cold everything is very very important. The recipe may fail in hot weather. Make sure to get that AC going. We don't want the butter to melt before proofing (letting croissants rise). 
If you are using other sweeteners than allulose, reduce the amount by half.
Add some keto chocolate pieces or sugar-free jam before rolling the croissants. They turn out amazing.
The dough will be stiff but pliable. You will see pieces of solid butter initially, they will turn into streaks as you roll the dough.
I repeated the rolling 5 or 6 times. Feel free to do it more, it's kinda fun. If you feel butter is melting and the dough is getting too soft, turn it back to the fridge or even to the freezer to chill it.
If you use oat fiber when rolling the dough, you won't be adding to carbs or calories. 
ALLULOSE CHOCOLATE CHIPS FOR CHOCOLATE CROISSANTS
Even though you have many options for low-carb chocolate chips, I am always partial to chocolate chips with Allulose without many other ingredients. If you are into dark chocolate and prefer clean label products, try Goalz Allulose Chocolate Chips. 
Prep Time
1 Hour 45 minutes, 30-40 minutes active
Perfect weekday activity. It yields 16-20 small croissants or 10 large ones
Ingredients
1 tsp Xanthan Gum, optional
Extra Vital Wheat Gluten and Oat Flour to flour the surface as needed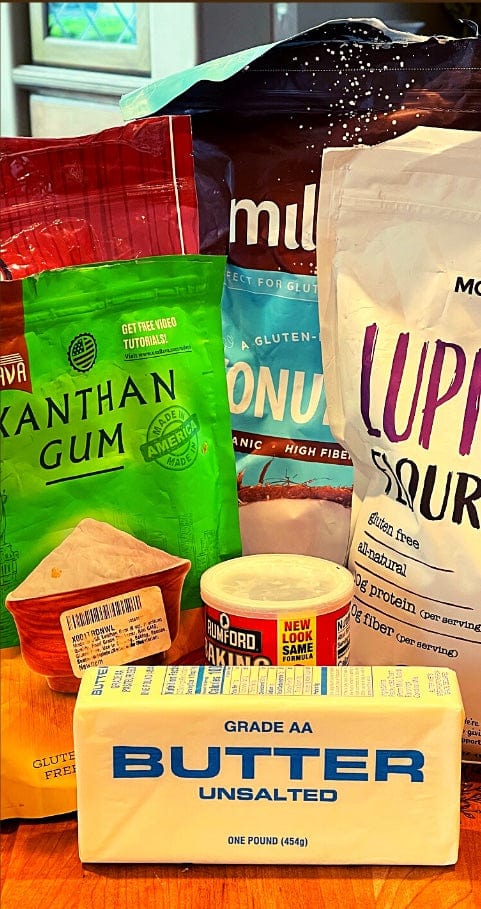 Directions
Mix dry ingredients in a large bowl
Slice cold butter thinly and add to the flour mixture
Incorporate butter roughly with a dough cutter or knife until it resembles a coarse mix
Add in heavy cream and water, mix with a spatula or use your hands until it forms a ball
Wrap the dough and place in the fridge for about 30 minutes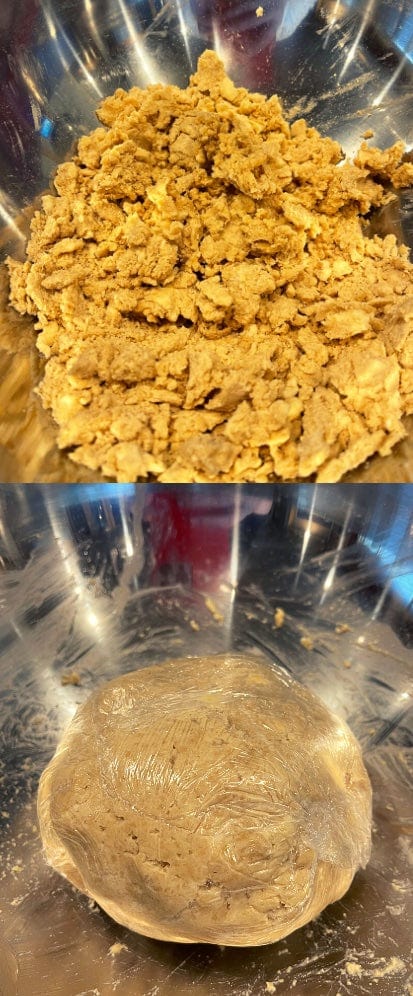 Generously flour the surface you will use with vital wheat gluten or oat fiber
Unwrap and place the dough over the gluten flour and sprinkle the top of the with gluten, too
Roll the dough to about 1 or 2 inch thickness as much as you can, fold like a brochure
Turn dough 90 degrees and roll again, flour the surface and dough as necessary so it won't stick
Repeat this folding and rolling process 4 or 5 times
Wrap and return the dough back to fridge for another 30 minutes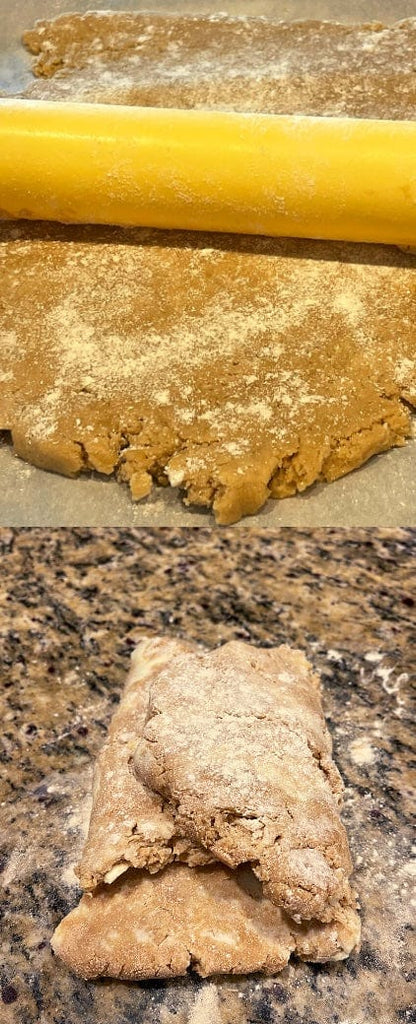 Unwrap the dough, place it on floured surface and repeat rolling and folding 2 more times
Cut the dough in half, wrap one piece and place it in the fridge
Roll the other piece to 1/2 inch thickness, cut uneven sides and get a nice rectangle
Cut the rectangle like a pizza into about 8 slices
Notch about an inch at the the bottom side of each triangle and roll starting from the wide side to the pointed end
Tuck the end under each croissant and place them on a baking sheet lined with parchment paper
Loosely cover the croissants with greased plastic wrap and let them rise for about an hour in a warm place
Preheat oven to 350
Whisk one egg and brush croissants, sprinkle with sesame, sliced almonds if you like
Bake them at 350 for about 20-25 minutes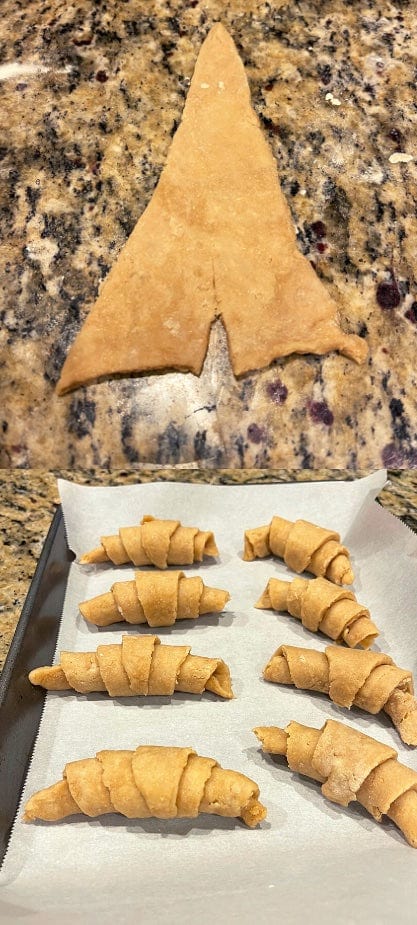 ---
1 comment
---
---