Baked broccoli tastes so good, top with with cheese it's heavenly. And it's inside a bowl made of meat. 
TOOLS and GADGETS
Food Processor, it cuts the prep time to mere minutes
Hand Grater, if  don't have a processor
Mixing Bowls
TIPS and SUBSTITUTIONS
I used 20 percent fat. I believe it's quite suitable for Keto followers without being too greasy or too high in cholesterol and calories. I tried it with higher fat contents it works well since baked in the oven. At leaner percentages meat bowls get too dry, no amount of cheese can save them.
80/20 is also ideal that your bowls will keep their shapes better. 
You can use other low carb veggies also, spinach, zucchini, chards etc work really really well. I strongly advise you also try chards
Flaxseed Flour can be replaced with same amount of oat fiber,  ground chia seeds (add 2 tbs of water)
You can completely omit flaxseed, make sure you drain the onion completely so that your mixture is  shapeable
You also can skip tomato paste, it adds color and zest though.
Fancy way to serve broccoli and meatballs, perfectly keto and kids approved
Ingredients
2 cups Fresh or frozen broccoli, thawed and chopped
1 Cup Shredded Mozzarella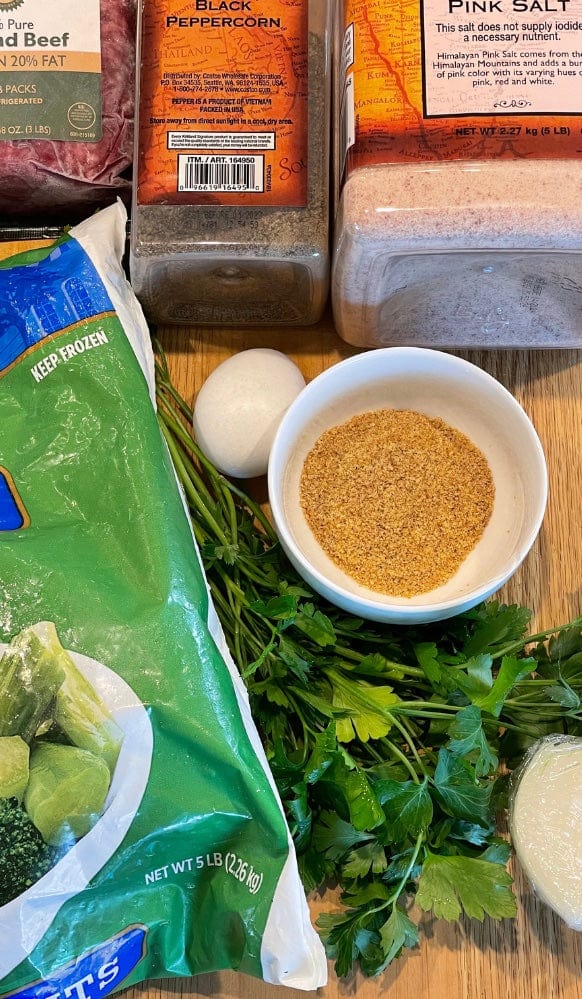 Directions
Quarter half an onion and add it to the food processor, process until coarsely shredded(about 10 seconds)
Add fresh parsley leaves and prices for 5 more seconds
Add in meat, flax seed, egg, tomato paste, salt and pepper. Start the processor and run it until the mixture resembles a dough , about a minute
If you dont have a food processor, grate Onion and mince parsley leaves
Add in meat, flax seed, egg, tomato paste, salt and pepper. Mix it well by kneading for a few minutes

Preheat oven to 400
Grease your hands, Take tennis ball sized pieces from the meat mixture, shape it into a ball
Make a well with your finger and enlarge the well so that the bottom and sides are about 1/4 inch thin
Line the bowls on a cookie sheet, no need to grease the cookie sheet
Dice broccoli and fill the meat bowls evenly
Bake 30 minutes in the oven
Top with mozzarella cheese or any semi soft cheese you choose
Transfer back to oven and bake another 5 minutes until the cheese melted and slightly browned
Sprinkle with crushed red peppers and serve hot
---
3 comments
---
---