Angel Food Cake is known as one of the finickiest and hence a hard-to-make cake. It reacts to humidity and doesn't do too well at high altitudes, heck it even doesn't like noise when baking claimed by some. But sweet irresistible lightness makes it one of the all-time favorites.
The amount of egg whites used makes this cake a good candidate for the Ketogenic version, the only concern is to substitute the flour, as it needs to be a substance light in weight and low in fat which renders nut flours unusable. On the other hand protein isolate is a promising candidate and it proved to be a good one also.
Tools and Gadgets
Electric Mixer
Aluminum Angel Food Pan, tube pan, or two 9" aluminum pans (non-stick pans will NOT work)
TIPS
Cooling this cake upside down is absolutely necessary. So if you use a pan that's not an angel food pan, find some props to lift and hold the pans upside down. You cannot just turn them upside down and place them on the counter since the cakes will sweat and stick to the pan and potentially collapse.
Never grease the pan or use a non-stick pan. The cake needs to stick to the sides to climb up and hold there until it cools down and becomes more sturdy.
If you're using regular round pans, you can live the bottom with parchment paper
Using regular flour is also a necessity to create that crust both taste-wise and functionally. It is the crust that keeps the cake stick to the sides while cooling.
Check doneness after 20 minutes, do not open the oven door before that.
The cake will have cracks at the top. When it's done cracks will be dry and it will spring back when you gently press to the top
The cake will easily fall down when cooled, if not just use a knife or a spatula to loosen the sides. A gentle tap to the bottom if necessary.
If you like it completely white, shave the crust with a long sharp knife or an electric knife
WHERE TO BUY ALLULOSE
For all the recipes using Allulose, you can purchase fine powdered Goalz Allulose here: SHOP ALLULOSE. If you want to learn more about Allulose, visit our ALLULOSE INFO page.
The best angel food cake.. Easier and more foregiving than original, ridiculously low in calories. It has about 4 grams of protein per slice and 0 fat, it is also excellent for muscle building
Ingredients
1 1/2 Cups Eggs Whites (12 Fresh eggs)
1/4 Cup Whey Protein Powder
1 1/2 tsp Cream of Tartar
1/4 tsp (a pinch) of salt
1 tsp Vanilla or lemon zest
Directions
PART I
Preheat oven to 350
Beat egg whites on slow until frothy (2-3 minutes)
Add in cream of tartar, increase the speed (medium high) of the beater
Add in allulose in two batches, beating on high until soft peaks form, color turns to white
Mix whey protein, xanthan gum, flour, baking powder, salt together. It is better if you sift them together
Slow the beater to lowest setting, add in the dry mix slowly (in a few batches) while the mixer still running on slow
Add in vanilla or lemon zest, give batter a few more swirl making sure it mixes well
Spoon the batter into a ungreased tube pan
If you dont have the pan, you can divide the batter into muffin pans or into two 9-inch aluminum pans
PART II
It will help to the line the bottom (only the bottom) with a parchment paper only if you're using not using the tube pan. No greasing
Spread the batter evenly, clean the sides with a damp paper towel if necessary
Immediately put the pan in the oven
Bake it for 25 minutes, watching closely after the 20 minute. Never open the oven door
It will have some cracks on top, it will be moist but not damp batter like
After it's done it will spring back when you tap on it slightly
Turn it upside down on a bottle, cup or a triangle sieve and don't touch it until it completely cools down
After it cooled down, carefully loosen the sides by running a spatula around and pull the tube up and loosen the bottom by tapping
Serve with sugar free fruit jam, shipped cream, melted chocolate or just fruits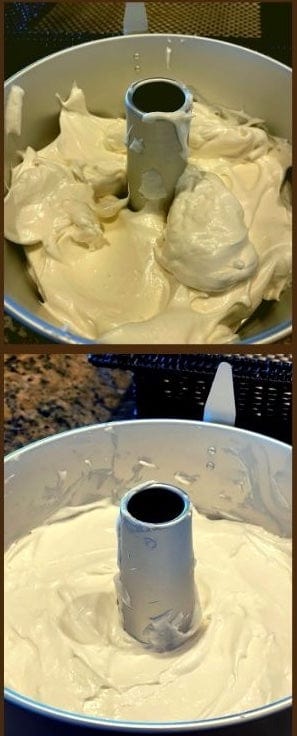 ---
1 comment
---
---